What type of events do you service?
We service anniversary parties, baby showers, bar/bat mitzvahs, birthday parties, bridal showers, christenings, corporate events, debutante balls, eco-friendly/green weddings, engagement parties, graduations, holiday parties, LGBT weddings/ceremonies, memorials, proms, quinceañeras, sweet 16 parties and more.
Why does your price fluctuate and what is the breakdown ?
CORPORATE EVENTS & PARTIES (3 hour minimum booking)
We charge $175 per hour for music DJing and light MCing at non-wedding events. For this rate, the event must also be booked at least two weeks in advance. These events usually take less preparation.
If we are DJing and MCing an event, and/or being asked to interact heavily with guests, we charge and additional $25 per hour for any of our DJs.
WEDDINGS (4 hour minimum booking)
Prices vary based on DJ's experience/skill level.
How many employees or DJs do you have one staff?
We have nine amazing and talented DJs. (See DJ bios for more info.)
What forms of payment do you accept?
We accept cash, check, Paypal, Venmo, AMEX, Discover, MasterCard and Visa.
What music genres are in your collection?
50s, 60s, 70s, 80s, 90s, acoustic, alternative, big band, blues, Christian, classic rock, classical, country, cumbia, dance, folk, funk, hip hop, indie, jazz, heavy metal (hair band), motown, oldies, orchestra, pop, punk rock, R&B, reggae, rock, salsa, soul, strings, swing and top 40. We also have a decent collection of old school rap, house and other electronic music. But we'll get any song you want for your event.
Do you have insurance?
Yes, we have $2 million in liability and $2 million in property damage insurance through Fireman's Fund Insurance Company.
Describe your DJ style.
Each DJ has their own style. All Stumptown DJs are up to date with today's music and practice their trade on a regular basis. Each is professionally trained specifically for weddings and events. (See DJ bios for more info.)
Is there a limit to the amount of music that can be requested?
No there isn't. The only limit is the amount of time we have to play them all. We've had brides list every song they want to hear, and we've had some pick only a few for their special dances (and we select the rest). We always suggest couples pick about 10 to 15 must-have songs, as well as their special dance songs. Then we ask them to tell us what genres they want to hear, and which ones they don't. We ask them to be specific about songs they don't want to hear on their special day. This is very important, because we don't want to play something that brings up bad memories or is considered inappropriate to them or their guests.
Our current database has over 18,000 songs, and continues to grow weekly. When booking with us, you get access to our entire music database (at least two months prior to your event), enabling you to listen to each and every song you want to hear at your event, as well as, create your own playlists.
What is your usual attire?
Our usual attire is a shirt, tie, sport coat, dress pants and dress shoes. We will, however, accommodate any reasonable request for attire.
Stumptown DJs do not wear tuxedos, it's just not our style. Plus, the spotlight should be on you, not us.
What if you don't have a song we want?
We currently have nine DJs on staff. We also have strong relationships with other DJ companies in the area. If we can't provide you the service that meets your needs, on the date you need it, we will recommend you to someone that can.
What is the minimum amount of time you will DJ for?
All weddings have a four-hour minimum.
All other event minimums are listed below:
Off season (November through April): two hours.
Wedding season (May through October & December): four hours.
Is the client able to meet the DJ before booking?
Of course, and we recommend it. We will meet with our clients anywhere. We try to make it convenient for both the DJ and client, so we usually meet at a coffee shop in the PDX area after work hours. We have, however, met with plenty of clients during the day, too. For out-of-town customers (or those wanting to be a little more Green), we will can meet with you via Skype.
Do you specialize in any ethnic or international events?
We don't specialize in any specific type of event other than weddings, however, we have done quite a few quinceañeras and bat/bar mitzvahs.
Can the client submit a do-not-play list?
We recommend they do. There are always a few songs, genres, or artists that clients don't want to hear, and we like to know what those are ahead of time.
Do you bring your own equipment?
Of course, and we always have backup equipment on hand as well. Our setup is very clean and neat, sans table clutter. We have three speakers, a laptop, a small mixer board, an amplifier and a wireless microphone.
What does your setup look like, and how much space do you require?
Our setup looks like this and only requires about 10 ft by 5 ft.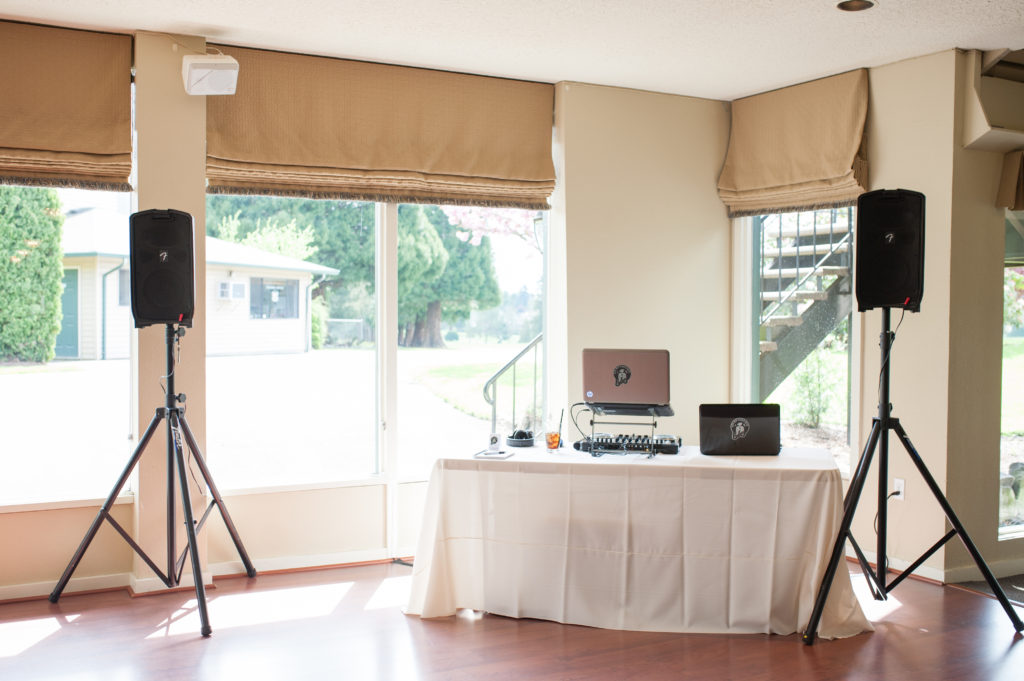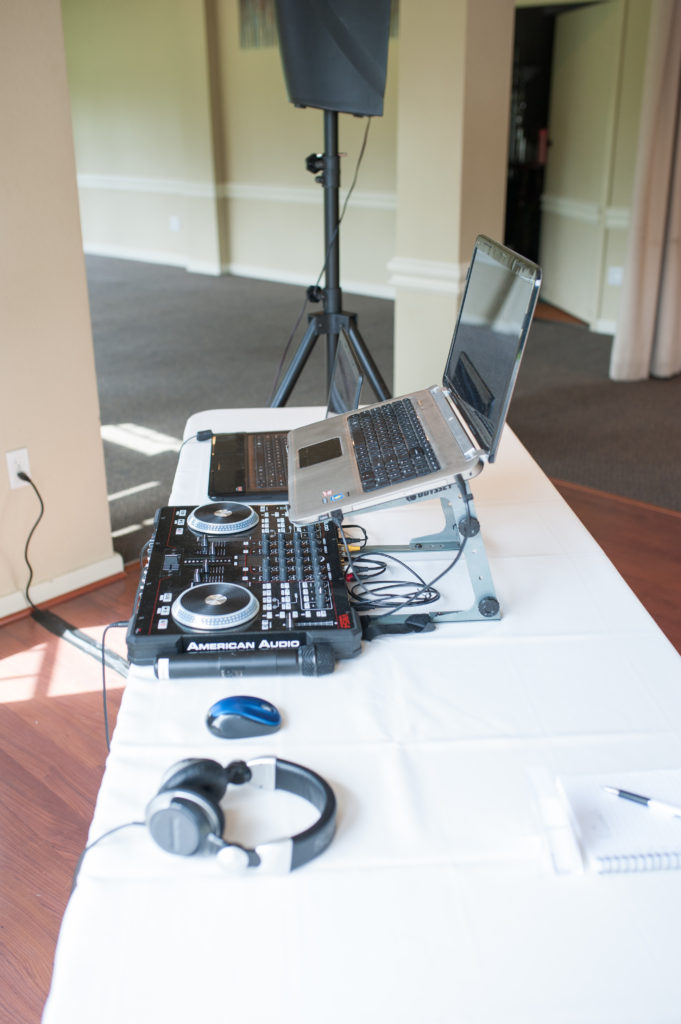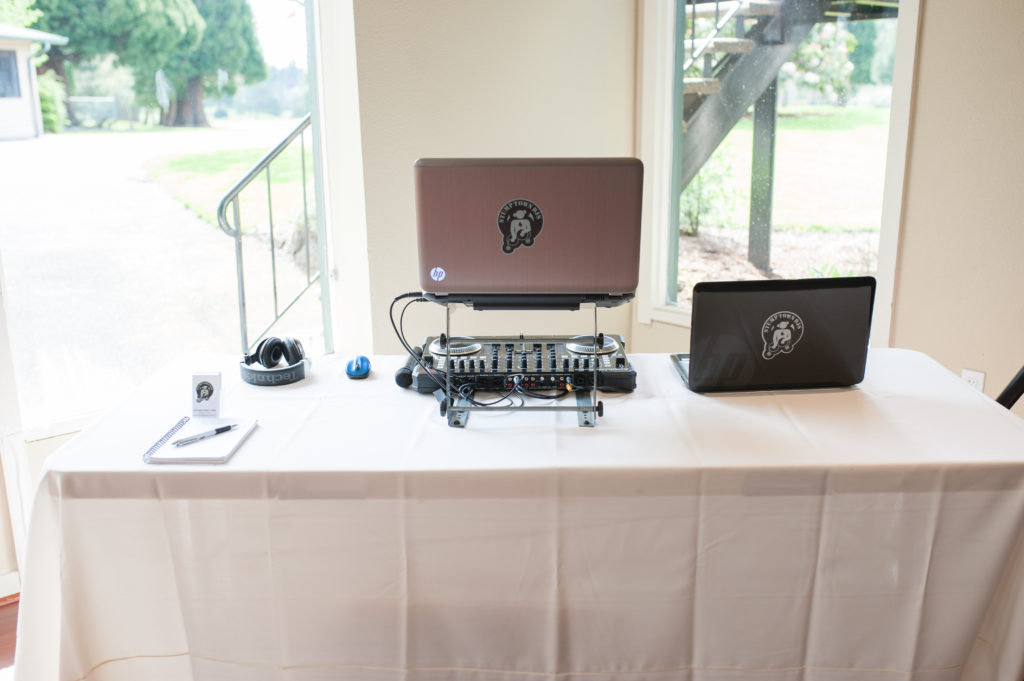 What (if any) special equipment, such as disco balls or lighting, is offered with your service?
We offer a high quality, multicolored and sound-activated disco light. It's included in all our services. It's simple, clean and fun. Once again, we don't like to have a lot of clutter.
How much time do you usually need to set up? Do you require the venue or client to provide a table for your setup?
Set up takes about 30 – 45 minutes, depending on the event. All DJs have agreed to set up 1 – 1.5 hours in advance, so we usually have 30 minutes to spare to make sure everything is dialed in. All of our equipment is portable and easy to move around. So if we have to move, it's not a problem. (This usually happens when ceremonies are held outdoors while the reception is indoors.) It's best for the venue to have a table and chair for us, but we will always bring one if necessary. The most important thing is for our DJs to have the proper power outlets (ones that are not on the same circuit as the decorative lighting for the evening).
What do your dance lights look like?
Our dance lights are American DJ Vertigo Tri LED lights. They move to the beat of the music and add a fun, yet subtle effect.
We also have an advanced lighting package you can add to your contract for an additional charge.
Do you have a sign or banner that you use at events?
No, we don't. Clients are not paying to be advertised to. We do, however, usually keep some business cards on hand in case guests want to have us at their own wedding or next party
Do you usually MC the event or talk between songs?
We usually MC all of our events. On occasion, the couple will have a pre-appointed MC for the evening and we don't mind if that is the case. We are there for you to make announcements, play good music and provide some fun. If you want us to do more or less, we are flexible; after all, you are the customer.
How would you motivate the crowd if no one is dancing?
A change of music usually does the trick, but if the crowd needs a little verbal motivation we have no problem coaching people onto the dance floor. We do have clients, from time to time, that don't want us to say anything (other than make announcements), and that's fine with us. Again, it's your day.
What is your policy on taking breaks? If you require a meal break, do you require that the client provide your meal?
Our DJ is at the DJ table the whole evening with the exception of bathroom breaks or helping the coordinate the next event for the evening. If he/she leaves the table, they make sure that the song is long enough to cover the time they are gone. As for meals, it is customary for the bride and groom to provide a meal for the DJ. The DJ will usually eat at his/her table while everyone else is eating and dinner music is playing. If you do not plan on providing a meal, we ask that you make this known in advance so the DJ can plan accordingly.
What is your backup plan in case you become unavailable on the day of the event?
We have strong relationships with other DJ companies in the Portland metro area. If we can't provide you with the service that you need, on the date you need it, we certainly will recommend someone that can.
Do you book yourself for more than one event in a day?
Not usually, this happens once in a blue moon. And if it did, we would tell the client prior to booking us.
What is your overtime rate?
It's the same rate you booked your DJ at. So if you booked a DJ at $200 per hour, then you would pay the same rate per hour. But if you want us for only 30 minutes more, then divide the rate in half. (We usually round up to the nearest 15 minutes.)
Do you charge for travel expenses? If yes, how much do you charge?
Yes, if it's outside of the Portland city limits. We charge a flat $0.75 per mile from our company headquarters. It's not much, but it's enough to cover gas for our DJs to get to and from your event. Also if you need the DJ to travel over 120 miles in each direction, we require that you pay for accomadation for one night's stay at a local hotel. We don't want our DJs driving home for 2 hours after a wedding that ended at 12am.
How far are you willing to travel for a wedding or event?
We are willing to travel 180 miles from our office located at 2552E NW Vaughn St. Portland, OR 97210. Please keep in mind that we may not be able to travel this far if your requested DJ is booked for an event the day prior and/or after (applies only June through mid-October).
What is the required deposit to secure your services?
Our deposit is 50% of your total booking and goes towards your final balance. When you contact us about an event, we'll save your date for seven days after contacting us. Your date is officially booked when you sign our contract and pay your deposit. The remaining balance is due two weeks prior to your event.
Why does your work stand out from others who do what you do?
We stand by our mission and provide services based on real consumer research.
Our Mission: "To provide customers with an affordable, professional and talented DJ service that's simple, flexible and fun for everyone."
We also have a large selection of music on hand and allow you to create your own event playlist to ensure we play the music you want to hear. All of our DJs know what tunes to play, when to play them and how to read a crowd in order to keep an event running smoothly. Most of all, we want to create an environment that's fun for everyone.
Why are your prices so much lower than competitors?
Stumptown DJs is doing its part to help save people money by keeping its prices affordable. We are a solid DJ company that is professional, organized and fun. (Without the fluff or cheese.)
What makes you different from other DJ services?
Three things set us apart from the rest. When you book with Stumptown DJs, we provide:
1. Access to our user-friendly music database to create your very own wedding playlist. (We do the mixing, of course.)
2. (For Weddings Only) A wedding timeline and day-of planning materials. Because we realize not everyone knows what should happen first: Cake cutting? Toasts? (It's your day—so we do whatever you want—but traditionally, toasts come first.)
3. A professionally trained and experienced wedding MC/DJ that is fun, reliable, professional and responsive to all emails and phone calls.
What advice do you have for a customer looking to hire a DJ?
Make sure your personalities match up and you are very clear with what you want at your event. Also make sure your DJ is familiar with the type of music you want to hear. Finally, many DJs don't like to MC. So if you're looking for an MC, as well as a DJ, make sure to make this clear.
Describe the most common types of jobs you do for your clients.
In the summer, we're usually DJing weddings. We also have a fair amount of family reunion, birthday and graduation parties. In the fall, we DJ a lot of house parties and Bar/Bat Mitzvahs, and in the winter we tend to do a lot of corporate holiday parties. The spring tends to be our downtime (event wise); however, it's the time of year that involves the most planning and booking for the summer months.
What should customers know about your trade? Any inside secrets to share?
Higher prices don't mean better quality, and lower prices don't mean lower quality. This is a myth that many DJs love to spread. Look up their reviews and ask for recent references. If you do that and things don't add up, they probably aren't a quality DJ.
What do you like most about your job?
We love providing a service our clients enjoy, thank us for, and smile about every time they remember the fun they had at their event.