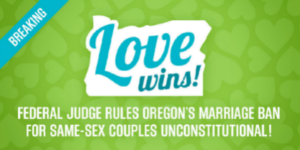 Judge Michael McShane struck down Oregon's constitutional amendment denying loving and committed same-sex couples from the freedom to marry! The order will take effect immediately, meaning marriage licenses will be available momentarily!
Today, we congratulate all the happy couples who can now walk down the aisle and finally say those two magical words: "I do."
This is a historic day for freedom and equality, and one we ever won't forget.
Today, we proved that here in Oregon, freedom means freedom for everyone.